Most active topic starters
Top posting users this month
Top posting users this week
Who is online?
In total there is
1
user online :: 0 Registered, 0 Hidden and 1 Guest
None
Most users ever online was
179
on 2017-12-21, 16:06
Hi!
I've just received my GPD Pocket 7".
After unboxing and charging while turned it on, it shown Just a moment... and the rotating dots.
It's 6-7 hours and still just a moment... it's stuck
Photos attached.
Tried to restart it several times but no use.
Tried from charger, from battery but no use.
What should I do? How to access the recovery partition or something to make it work?
Thank you for your help in advance!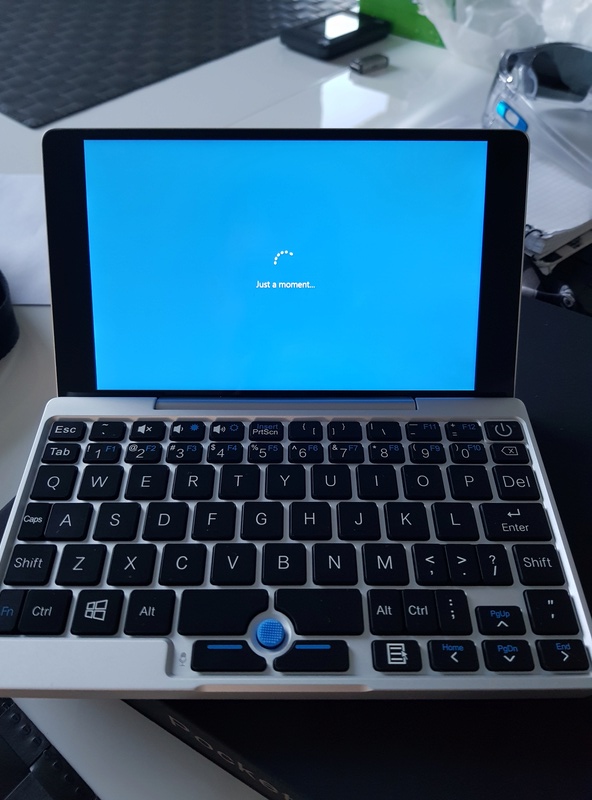 nandika




帖子数

: 2


注册日期

: 2017-06-22



I have this exact problem

RaphaeLevy




帖子数

: 2


注册日期

: 2017-08-16



RaphaeLevy wrote:I have this exact problem
I have received a reply from GPD support and now this problem is corrected.
I needed to reinstall the OS. Do you also need a manual how to reinstall the OS?
You just need to copy the files on a USB stick and boot from it.
E-Mail attached:
Dear Backer
So sorry for the issue.
It should the OS issue.
Can you try to reinstall the system to repair it?
Here is the download link of firmware of Windows OS:
https://mega.nz/#!pJpWDSDJ!xv1E-Lsa9m-9KOXqyofHvdB90lmJ7_Ln6zVzmSwAhtI
And i also attached the instruction of how to reinstall the OS.
Hope it can help you.
Thanks
kendy

nandika




帖子数

: 2


注册日期

: 2017-06-22



nandika wrote:

RaphaeLevy wrote:I have this exact problem

I have received a reply from GPD support and now this problem is corrected.

I needed to reinstall the OS. Do you also need a manual how to reinstall the OS?

You just need to copy the files on a USB stick and boot from it.

E-Mail attached:

Dear Backer

So sorry for the issue.

It should the OS issue.

Can you try to reinstall the system to repair it?

Here is the download link of firmware of Windows OS:

https://mega.nz/#!pJpWDSDJ!xv1E-Lsa9m-9KOXqyofHvdB90lmJ7_Ln6zVzmSwAhtI

And i also attached the instruction of how to reinstall the OS.

Hope it can help you.

Thanks

kendy
---
Permissions in this forum:
You
cannot
reply to topics in this forum